Principal Investigator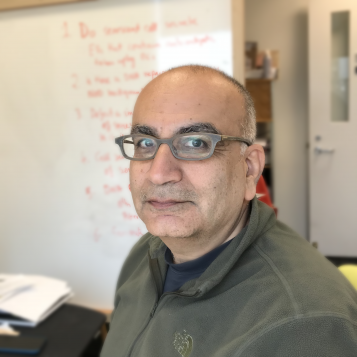 Anil Bhushan
Professor
Dr. Bhushan earned his PhD in Biophysics at University of California, Davis. He was a postdoctoral fellow at the Salk Institute of Biological Studies where he worked on TGF-beta signaling in the specification and patterning of endoderm. He subsequently worked at Institute Curie and Hospital Robert Debre in Paris on pancreatic development. The major goals of his laboratory are to understand the molecular mechanisms that govern beta cell formation and regeneration of pancreatic beta cells. An inadequate mass of functional beta cells results in diabetes mellitus, a metabolic disorders characterized by hyperglycaemia and defective metabolism of glucose. Therapeutic strategies involve restoring functional beta cell mass by exogenous replacement or transplantation of a source of beta cells such as embryonic stem cells derived beta cells or activation of endogenous regeneration of beta cells. Elucidation of the epigenetic network that regulates transcription during pancreatic developmental and regeneration will provide the blueprint by which the extra-cellular cues are interpreted at the nuclear level by the transcription machinery to select the repertoire of beta cell-specific genes. Such a blueprint will inform us on how to direct stem cells to beta cell fate in vitro and allow us to devise pharmacological interventions toward selective manipulation of gene expression to promote regeneration of beta cell mass. Furthermore, generation of animal models of diabetes and strategies to develop novel cellular therapies for diabetes can enable and test outcomes for candidate therapeutic approaches. While the interest of the laboratory is on beta cell formation and regeneration, a number of molecular components of the epigenetic network we study are involved not only in the formation of diverse organs but they also contribute to the development of cancer. Close proximity with these groups within the center should generate molecular tools, genetic resources, and experience that will greatly enhance the efforts of investigators in this center to assess and experimentally manipulate the stem cell and regenerative based research.
Lab members
Rami Jaafar
Postdoctoral Fellow
I am French originally from Lebanon. I earned my PhD in France, where I studied muscle differentiation and muscle atrophy/hypertrophy. I did postdoctoral work at Cancer Research Centre Lyon (CRCL) on diabetes and pancreatic endocrine tumors. In my free time I like to workout, play volleyball, explore the world and eat delicious food.

Ajit Shah
Postdoctoral Fellow
I am originally from Mumbai, India. In 2013, I earned my PhD in Molecular and Cell Biology from University of Texas at Dallas,where I used yeast as a model to understand molecular mechanisms underlying hypoxia response and tolerance. Further I investigated how oxygen and heme regulate cellular localization and transcriptional activity of key transcription factors in yeast. I joined the Bhushan lab in November 2014, currently investigating epigenetic changes associated with diabetes.

Peter Thompson
Postdoctoral Fellow
I am Canadian, from the city of Fort McMurray in northern Alberta. In 2015, I earned my PhD in medical genetics from the University of British Columbia in Vancouver where I worked on the mechanisms of transcriptional silencing by histone methyltransferases in mouse ES cells. I joined the Bhushan lab in January 2016 to investigate the relationships between metabolic states, stress responses and epigenetic regulation in beta cells. In my free time I enjoy playing soccer and basketball, a good game of chess, a pint of beer and exploring the city with my wife and two sons.

Masaya Oshima
Postdoctoral Fellow
I am Japanese and I grew up in France. I earned my PhD in Developmental Biology from Paris Descartes University where I worked on the role of SOX9 in human pancreatic beta cell dedifferentiation. I joined the laboratory January 2018 and I am currently investigating on the age related effects on diabetes and specifically the role of senescence secretory phenotype in the development of diabetes.

Charalampia-Christina Apostolopoulou
Staff Research Associate

Jimmy Chen
Administrative Assistant
I have a B.A. from University of California Santa Cruz, and have lived in the Bay Area of thirty years. I assist Dr. Bhushan and the lab with daily administrative duties. I enjoy music, food, drawing, and riding my bike.
Alumni
Bita Bordbar
Postdoctoral Fellow
I am from France and joined Dr. Bhushan's lab in October 2014 in order to work on the "Diabetes Biomarker Project." My last position in France was in an American biotech company, for which I was employed as a Technical Specialist for last two-and-a-half years. My graduate training was in Genetics-Therapeutic Biotechnology from the School of Pharmacy of Paris Sorbonne University, where I was awarded a PhD in 2012. During my doctorate program, my research area was primarily in placental Malaria.

Laura Ratner
I am from Argentina. I graduated in Biotechnology at University of Quilmes and I got my PhD in reproductive endocrinology at the Institute of Biology and Experimental Medicine under the direction of Dr. Susana Rulli in 2013 in Buenos Aires, Argentina. After I finished my PhD, I decided to change the field of investigation and I joined the laboratory to work in diabetes as a postdoctoral fellow.

Stella Tran
I was born in Quebec City, Canada, and migrated to Montreal to pursue my undergraduate and MSc studies at University of Montreal. I focused on the effects of maternal hyperglycemia on perinatal programming and kidney morphogenesis. I then spent the next four years of my PhD studying pituitary FOXL2 and its role in FSH regulation at McGill University. In 2013, I moved to California to start my postdoc at UCLA, and now I am currently at UCSF; I am somewhat returning to my first love, diabetes, with a new interest in beta cell maturation.

Sharon Zhong
Staff Research Associate
I recently graduated from the University of California Berkeley with a Bachelor's degree in Molecular and Cell Biology. During my undergraduate career, I pursued my increasing interest in human metabolism by completing an internship in the Metabolism and Pharmacokinetic department at Novartis Institute for Biomedical Research and working in a Nutritional Sciences lab on campus. I hope to attend either pharmacy or graduate school in the future.